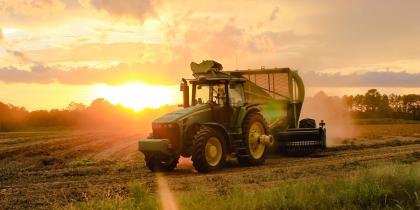 GATE Program
The Georgia Agricultural Tax Exemption (GATE) is a legislated program that offers qualified agriculture producers certain sales tax exemptions. If you qualify, you can apply for a certificate of eligibility.
Highlights
About this Program

The application and system for 2023 GATE cards is now open. Fees for all cards must be paid as part of your online application, by credit card or ACH only.  If your GATE certificate has expired you can no longer renew it and will need to apply for a new card.

Make Sure that You

Have a valid email address (free email service can be obtained from Gmail or Outlook)
Know the Taxpayer ID Number associated with your farm or business
Know the tax forms you file for your farm or business
Have read the step-by-step GATE Application Guide below

Refunds and missing cards

You have 45 days after paying for a card to notify GDA if you didn't receive it. After that, you'll be charged $30 for a replacement card.
 
Refunds will only be given for multiple payments on accounts or if a duplicate account has been created. No refunds will be given on a multiple-year GATE card when the farm is sold or is no longer operating.

Contact Us

For assistance, call the Customer Service Center at 855-FARM TAX (855-327-6829) or email farmtax@agr.georgia.gov.

Frequently Asked Questions

Merchants, Read This!

Merchants: you are responsible for making sure that you only allow tax exemptions to active GATE cardholders for purchases that are eligible under the law.  Follow these guidelines:

Always check card status before each purchase, to make certain the card is not suspended or revoked. You can see the card status and authorized users at out GATE Card status check page.

Always check IDs to make sure the person making the purchase is the person on the GATE Card or an authorized card user (see the GATE Card status check page).

If you have any doubts whether a purchase is exempt, do not just take the customer's word. Contact the GATE Program.

Always keep copies of receipts and purchases from your customers

Be aware of GATE Rules and Regulations before giving any tax exemptions. If you have questions, contact the GATE Program.

Market Bulletin

We're pleased to partner with the Farmers and Consumers Market Bulletin. The Bulletin is the official source of information for the GATE program, and it includes tips and guidance to ensure the integrity of the program's goals.

All active GATE members have free access to Market Bulletin content. You'll need your GATE card number and the zip code printed on the card to access the Market Bulletin digital content.
Laws & Regulations
The GATE Statute is the Georgia law that defines and regulates the agricultural tax exemption.
The Department of Revenue rule gives further definition of terms within the law.
Laws and Regulations
Laws and Regulations