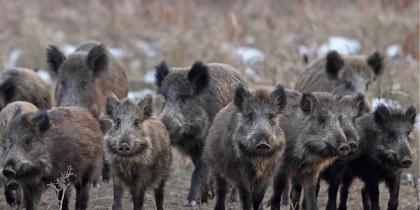 Feral Hogs
Feral hogs are an invasive species causing millions of dollars in damages to agriculture. Federal, State, and local agencies are working together to manage this threat.  The Georgia Department of Agriculture (GDA) regulates transportation and holding of live feral hogs.
Highlights
About this Program

Feral hog holding facilities must have a Feral Hog Facility License and anyone transporting live feral hogs must have a Feral Hog Transport Permit. 

A Feral Hog Holding Facility that is also transporting feral hogs must obtain a Feral Hog Transport Permit, in addition to a feral hog facility license.

Feral Hog Facilities must have a Premises ID for the physical location at which the feral hogs will be held. If you are not sure whether you have a Premises ID, please contact the Livestock and Poultry Office.  You can apply for a Premises ID here.

If you have questions about your permit or license status, please contact GDA Licensing at the number below.

Hunters helping Farmers

Hunters Helping Farmers was a joint program of the Georgia Department of Agriculture and the Georgia Department of Natural Resources to help alleviate the agricultural and financial damage caused by non-native invasive Feral Hogs. The Program ran from 2014 to 2016. Thousands of hunters signed up to help about 25 Farmers. There currently is no program to match up hunters and farmers.

If you have questions about Feral Hogs Management please see the Department Of Natural Resources Division page on Feral Hog Management.
License Types
Licenses for this Program
Licenses for this Program