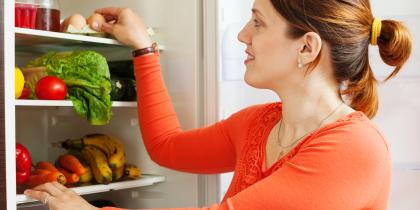 Recalls
On this page you'll find recent recall alerts for food and feed products distributed or produced in Georgia. These alerts include the reason for the recall, a description of the issue, and a complete listing of affected products with identifying information. 
Learn more about recalls
Extended
Old Europe Cheese, Inc. (10/05/2022)
Old Europe Cheese, Inc. - is recalling it's Brie and Camembert cheeses because of potential contamination with Listeria monocytogenes, an organism which can cause serious and sometimes fatal infections in young children, frail or elderly people and others with weakened immune systems. Although healthy individuals may suffer only short-term symptoms such as high fever, severe headache, stiffness, nausea, abdominal pain and diarrhea, Listeria infection can cause miscarriages and stillbirths among pregnant women.
Show more information

Show less information

All Old Europe Cheese Brie and Camembert products with best by dates through 12/14/2022 are subject to the voluntary recall. The products were distributed from August 01, 2022 through September 28, 2022 and were available at supermarkets, wholesale and retail stores nationwide and Mexico; retailers include Albertsons, Safeway, Meijer, Harding's, Shaw's, Price Chopper, Market Basket, Raley's, Save Mart, Giant Foods, Stop & Shop, Fresh Thyme, Lidl, Sprouts, Athenian Foods, Whole Foods. This list may not include all retail establishments that have received the recalled product or may include retail establishments that did not actually receive the recalled product.

The following products being recalled are marked with Best By Dates ranging from September 28, 2022 to December 14, 2022, Retailers may have repackaged bulk Old Europe Cheese items into smaller containers and sold this repackaged product to consumers. This repackaged product may not bear the original labeling and product information as described below:

| | | |
| --- | --- | --- |
| Brand | Product Name | UPC Code |
| BLACK BEAR | 6 lb Black Bear Wheel | N/A |
| BLOCK AND BARREL | 2.2 lb Block and Barrel Brie | 078982603281 |
| BLOCK AND BARREL | 6.6 lb Block and Barrel Brie | N/A |
| CHARMANT | 2.2 lb Brie - double crème, whole wheel - CHARMANT | N/A |
| CHARMANT | 8 oz Brie - double crème, rounds | 033421023860 |
| COBBLESTONE | 2.2 lb Cobblestone Brie Wheel | 822486179809 |
| CULINARY TOUR | 8 oz Brie - double crème, rounds | 011225005145 |
| CULINARY TOUR | 8 oz Brie - double crème, wedges, saran wrapped | N/A |
| FREDERICKS | 8 oz Brie - dbl crème, wedges, saran wrapped | N/A |
| FREDERICKS | 8 oz Brie - triple crème, rounds | 708820301214 |
| FRESH THYME | 8 oz Brie - double crème, rounds | 841330111994 |
| FRESH THYME | 8 oz Brie - triple crème, rounds | 841330111987 |
| FRESH THYME | 8 oz Brie - wedges, saran wrapped | N/A |
| FRESH THYME | 8 oz Camembert-Traditionnel rounds | 841330111970 |
| GLENVIEW FARMS | 2.2 lb Brie - double crème, whole wheel | 758108121355 |
| GLENVIEW FARMS | 3.25 lb Brie-double crème, rectangular RW | 758108670150 |
| GOOD AND GATHER | 8 oz Good and Gather Wheel | 085239047620 |
| HEINEN | 8 oz Brie - triple crème, rounds | 020601418028 |
| JOAN OF ARC | 14 oz Joan of Arc Brie Wheel | 711565129111 |
| JOAN OF ARC | 2.2 lb Joan of Arc Herb and Garlic Wheel | N/A |
| JOAN OF ARC | 2.2 lb Joan of Arc Peppercorn Wheel | N/A |
| JOAN OF ARC | 6.5 lb Joan of Arc Triple Creme Wheel | N/A |
| JOAN OF ARC | 8 oz Joan of Arc Camembert Wheel | 711565112243 |
| JOAN OF ARC | 8 oz Joan of Arc Double Cream Wedge | 711565204993 |
| JOAN OF ARC | 8 oz Joan of Arc Double Creme Wheel | 711565112236 |
| JOAN OF ARC | 8 oz Joan of Arc Slicing Brie | 711565200520 |
| JOAN OF ARC | 8 oz Joan of Arc Triple Creme Wheel | 711565129104 |
| LA BONNE VIE | 14 oz Brie - double crème, rounds | 820581678678 |
| LA BONNE VIE | 2.2 lb Brie - double crème, whole wheel | 820581678685 |
| LA BONNE VIE | 6.5 lb Brie - double crème, whole wheel RW | 820581678692 |
| LA BONNE VIE | 7 oz Brie - dbl crème w/Herbs, wedges, foil wrapped | 820581678661 |
| LA BONNE VIE | 7 oz Brie - double crème, wedges, foil wrapped | 820581678654 |
| LA BONNE VIE | 8 oz Brie - double crème, rounds | 820581678531 |
| LA BONNE VIE | 8 oz Brie - triple crème, rounds | 820581678746 |
| LA BONNE VIE | 8 oz Camembert - double crème, rounds | 820581678616 |
| LIDL | 8 oz Brie - double crème, rounds | 4056489151739 |
| LIFE IN PROVENCE | 8 oz Brie - rounds | 787984111952 |
| MARKET 32 | 14 oz Brie - double crème, rounds | 41735052865 |
| MARKET 32 | 8 oz Brie - double crème, rounds | 41735052834 |
| MARKET 32 | 8 oz Brie - double crème, wedges, saran wrapped | 41735052872 |
| MARKET 32 | 8 oz Brie - triple crème, rounds | 41735052858 |
| MARKET 32 | 8 oz Brie-dbl crème w/Herbs, wedges, saran wrapped | 41735052889 |
| MARKET 32 | 8 oz Camembert - Traditionnel double crème, rounds | 41735052841 |
| MATRIE 'D | 2.2 lb Matrie'd Wheel | 780487488422 |
| METROPOLITAN | 6.5 lb Metropolitan Wheel | N/A |
| METROPOLITAN | 8 oz Metropolitan Wheel | 711565007679 |
| PRESTIGE | 8 oz Brie - triple crème, rounds | 021140033635 |
| PRIMO TAGLIO | 6.5 lb Brie - w/Herbs, whole wheel | N/A |
| PRIMO TAGLIO | 8 oz - w/Herbs, wedges | 21004900002 |
| PRIMO TAGLIO | 8 oz Brie - double crème, rounds | 021130045679 |
| PRIMO TAGLIO | 8 oz Brie - slicing rectangle | 021130098453 |
| PRIMO TAGLIO | 8 oz Brie - triple crème, rounds - ST ROCCO | 133421027865 |
| RED APPLE | 7 oz Brie - double crème, rounds | 604262030005 |
| RED APPLE | 8 oz Brie - double crème, wedges, saran wrapped | 604262030036 |
| Reny Picot | 1 lb Brie - double crème, slicing rectangle | 033421024201 |
| Reny Picot | 14 oz Brie - double crème w/Herbs, rounds | 033421022764 |
| Reny Picot | 14 oz Brie - double crème, rounds | 033421022757 |
| Reny Picot | 14 oz Camembert - double crème, rounds | 033421022795 |
| Reny Picot | 2.2 lb Brie - double crème, whole wheel | N/A |
| Reny Picot | 2.2 lb Brie - triple crème, whole wheel | N/A |
| Reny Picot | 3.25 lb Brie - double crème, rectangular | N/A |
| Reny Picot | 6.5 lb Brie - double crème w/Herbs, whole wheel | N/A |
| Reny Picot | 6.5 lb Brie - double crème, whole wheel RW - RENY PICOT | N/A |
| Reny Picot | 6.5 lb Brie - triple crème, whole wheel | N/A |
| Reny Picot | 6.5 lb Brie-dbl crème w/Peppercorn, whole wheel | N/A |
| Reny Picot | 6.5 lb Camembert - double crème, whole wheel | N/A |
| Reny Picot | 7 oz Brie - double crème w/Herbs, wedges, foil wrapped | 033421022429 |
| Reny Picot | 7 oz Brie - double crème, rounds no cups | N/A |
| Reny Picot | 7 oz Brie - double crème, wedges, foil wrapped | 033421022417 |
| Reny Picot | 8 oz Brie - dbl crème w/Peppercorn, wedges, saran wrapped | N/A |
| Reny Picot | 8 oz Brie - dbl crème, wedges, saran wrap RW | N/A |
| Reny Picot | 8 oz Brie - double crème w/Herbs, wedges, saran wrapped | N/A |
| Reny Picot | 8 oz Brie - double crème, rounds | 033421022863 |
| Reny Picot | 8 oz Brie - double crème, slicing rectangle | 033421024300 |
| Reny Picot | 8 oz Brie - double crème, wedges, saran wrapped | N/A |
| Reny Picot | 8 oz Brie - triple crème, rounds - ST ROCCO | 133421027865 |
| Reny Picot | 8 oz Brie - trpl crème, wedges, saran wrap RW - ST ROCCO | N/A |
| Reny Picot | 8 oz Brie - wedges, saran wrapped | 033421022313 |
| Reny Picot | 8 oz Camembert - double crème, rounds | 033421022900 |
| Reny Picot | 8 oz Camembert - Traditionnel double crème, rounds | 033421024904 |
| ST RANDEAUX | 14 oz Brie - double crème, rounds | 636625003401 |
| ST RANDEAUX | 2.2 lb Brie - double crème, whole wheel | N/A |
| ST RANDEAUX | 6.5 lb Brie - double crème, whole wheel RW | N/A |
| ST RANDEAUX | 8 oz Brie - dbl crème w/Herbs, wedges, saran wrpd RW | N/A |
| ST RANDEAUX | 8 oz Brie - dbl crème w/Pepper, wedges, saran wrpd RW | N/A |
| ST RANDEAUX | 8 oz Brie - double crème, rounds | 636625003418 |
| ST RANDEAUX | 8 oz Brie - triple crème, rounds | 636625003548 |
| ST RANDEAUX | 8 oz Camembert - Traditionnel, rounds | 636625003425 |
| TASTE OF INSPIRATION | 8 oz Brie - rounds | 725439802550 |
| TASTE OF INSPIRATION | 8 oz Brie - triple crème, rounds | 725439999731 |
| TASTE OF INSPIRATION | 8 oz Brie - w/Herb center layer, rounds | 725439802567 |
| TASTE OF INSPIRATION | 8 oz Brie - wedges, saran wrapped | N/A |
| TRADER JOE | 8 oz Trader Joe Slicing | 00505086 |

 

The following baked brie products are being added to the 9/30/2022 Old Europe Cheese voluntary recall. These are products with best by dates through 12/14/2022 and are subject to the voluntary recall. The products were distributed from August 01, 2022 through September 28, 2022 and were available at supermarkets, wholesale and retail stores nationwide and Mexico.

The following products being recalled are marked with Best By Dates ranging from September 28, 2022 to December 14, 2022.

| | | | |
| --- | --- | --- | --- |
| Brand | Product Name | Packaging & size | UPC Code |
| CULINARY TOUR | *8 oz Plain Baked Brie | Clamshell 8 oz | 011225005350 |
| CULINARY TOUR | *11 oz Cranberry Baked Brie | Clamshell 11 oz | 011225005367 |
| LA BONNE VIE | *8 oz Plain Baked Brie | Clamshell 8 oz | 820581678814 |
| LA BONNE VIE | *11 oz Cranberry Baked Brie | Clamshell 11 oz | 820581678821 |
| LIDL | * 8 oz Plain Baked Brie | Clamshell 8 oz | 4056489151203 |
| LIDL | *11 oz Cranberry Baked Brie | Clamshell 11 oz | 4056489151203 |
| LIDL | *11 oz Fig Baked Brie | Clamshell 11 oz | 4056489310907 |
| PRIMO TAGLIO | * 8 oz Plain Baked Brie | Clamshell 8 oz | 021130098460 |
| Reny Picot | *8 oz Plain Baked Brie | Clamshell 8 oz | 033421050088 |
| Reny Picot | *11 o zCranberry Baked Brie | Clamshell 11 oz | 033421051115 |
| Reny Picot | *11 oz Apple Baked Brie | Clamshell 11 oz | 033421500811 |
| Reny Picot | *11 oz Fig Baked Brie | Clamshell 11 oz | 033421053119 |