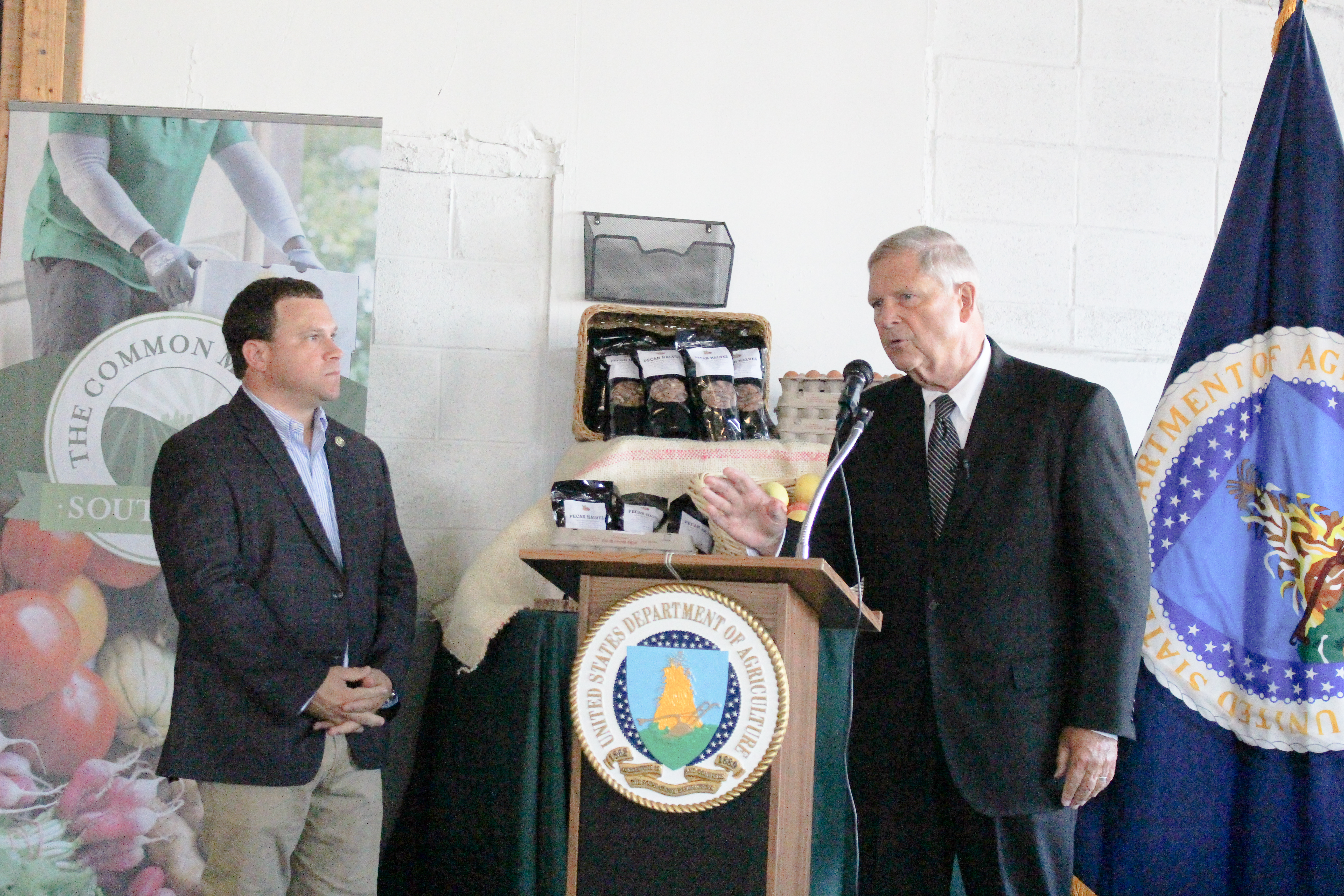 Vilsack visits Georgia to highlight USDA programs helping farmers connect to markets
By Jay Jones  
jay.jones@arg.georgia.gov  
Editor
U.S. Department of Agriculture Secretary Tom Vilsack and Georgia Agriculture Commissioner Tyler Harper visited the Common Market food wholesaler to celebrate the Specialty Crop Block Grant Program (SCBGP) and other federal programs geared toward supporting small farmers and producers in Georgia.
Vilsack's appearance at Common Market, located a few miles south of downtown Atlanta, was to announce $1.4 million through SCBGP awarded to Georgia will be dispersed to projects that research and promote specialty crops in the state. Georgia's grant award marked the billionth dollar provided to all 50 states through SCBGP since the program started in 2012.
This year, $72 million was distributed to all the states for projects supporting specialty crops defined as fruits, vegetables, tree nuts, horticulture, turfgrass/ sod, nursery, and greenhouse crops.
"Roughly 12,000 grants have been made over this period of time under this program, and we're excited about the continuing partnership we have with the commissioner's office and with secretaries, commissioners, and directors of agriculture across the country," Vilsack said.
Harper welcomed Vilsack to Georgia and touted how the partnership between the Georgia Department of Agriculture and the U.S. Department of Agriculture has helped farmers.
"Georgia farmers are some of the best in the world and, as American farmers, are very resilient. The work we do every day to connect local producers to local food supply chains is vital in connecting those dots and ensuring that Americans and Georgians are able to access a quality food supply," Harper said.
The Georgia Department of Agriculture administers the annual grant awards. According to Dr. Jen Erdmann, GDA director of grants, the department announced 13 projects to fund this year, with the funds used in research and marketing.
Among the research projects selected this year are two that focus on citrus, Georgia's newest fruit commodity, to find ways to control leafminer and Asian citrus psyllid infestation. Other research programs involve early disease detection of Vidalia Onions and studying new high-density production methods for peaches.
Matthew Kulinski, director of GDA's Marketing Division, which includes the Georgia Grown program, said the Specialty Crop Block Grant program has been a vital source of funding for programs that support Georgia's fruit and vegetable industry.
"Georgia's SCBGP has funded great projects like direct-to-consumer sales of pecans in Asia, to developing innovative growing substrates for mushrooms and promotions for Georgia's bourgeoning citrus industry," Kulinski said. "The resources made available with this grant have been a significant part of making Georgia one of the nation's top specialty crop production states."
Kulinski highlighted Georgia Grown's partnership with the Independent Grocers Alliance (IGA) to connect Georgia's independent grocers with specialty crop products. IGA is working to increase the availability of Georgia-grown satsuma oranges in grocery stores and other retail locations.
Along with helping Georgia's citrus industry, SCBGP funding has helped build the state's mushrooms industry through a research grant to Kennesaw State University that studied high-yield cultivation methods that, in turn, created a market for Georgia-grown mushrooms.
Vilsack was also in Georgia to promote other USDA programs that support small and family-owned farming and ranching operations. The choice of Common Market highlighted those efforts. The non-profit wholesaler partners with small farms and develops markets for their products.
Common Market Executive Director Bill Green explained they have been able to find markets with local restaurants, hospitals, schools, universities, and other community organizations to purchase food from small farms located within a 250-mile radius of Atlanta.
Green said their mission is to create partnerships between customers and farmers to "help build a more equitable and resilient local food system."
"The investment by the USDA through the LFPP (Local Food Promotion Program) and LFPA program (Local Food Purchase Assistance Cooperative Agreement) have been used to support our growers. It's really helped accelerate that growth," Green said.
Tianna Rose Neal, who owns Starlit Roots Farm in Burke County, was on the panel and gave testimony on how she has been able to find a market for her watermelons and other organic produce with help from the Farm Services Agency, Common Market and Georgia Organics through the LFPA program.
"That program opened a whole new door for me because, for so long, wholesale production has been out of reach for farmers like me," Neal told Vilsack. "I've been serving local markets, and I always believed that was how far I could go even though I've always had this dream that my produce would be in a grocery store on the shelves and available to so many more people outside of the Augusta area."
Vilsack urged farmers to take advantage of USDA programs to help their business and start with the USDA's FSA and its website, www.fsa.usda.gov.
For more information about the Specialty Crop Block Grant program administered in Georgia, visit https://agr.georgia.gov/specialty-crop-block-grant-program-scbgp. Applications for 2024 SCBG open on Feb. 1, 2024.